Theme: The Antibiotic Resistance Crisis: Causes and Threats
Antibiotics Resistance 2019
We welcome all the participants from all over the world to attend 5th International Conference on Antibiotics & Antibiotic Resistance to be held on May 30-31, 2019 at Orlando, Florida, USA which includes prompt keynote presentations, Oral talks, Poster presentations and Exhibitions.
Conference Series LLC Ltd is organizing Antibiotics Resistance Conferences in 2019 in USA. We organize Antimicrobial Meetings in the fields related to Antibacterial Studies and Research.
Details of Antibiotics Resistance Conference in 2019 in USA:
The use of antibiotics having an important concern for selection of resistance, not completely among pathogenic bacteria also among the commensal ones. In public health antimicrobial resistance is a major problem due to possibility in therapeutic failure. The primary objective of this meeting is to compile researchers involved in antibiotic resistance prevention and control. The meeting will take a unified approach to research and it will bring about researchers specializing in different subjects related to antibiotic resistance. We expected to present a universal vision of the importance of antimicrobial resistance in different ecosystems and what can be done about it.
Why to attend?
Antibiotics Resistance 2019 is a platform to discuss and learn about the latest advancements in the field of Antibiotics as the world's consideration turned regarding the urgency of new antibiotics as the antimicrobial resistance is growing day by day. Many developed nations and International health organizations are trying to focus of the current situation and making new policies to prevent the adverse effects of Antibiotic resistance.
The 2-day conference gathers researchers, academia, labs, Drug Manufacturers, government agencies, health professionals, hospitals, young investigators, pharma and labs and presents their opinions through key notes, and case study presentations. This conference lays a platform for all the researchers working in the field of Antibiotics to know the latest developments and the current situation of the Antibiotic resistance problem.
Who will attend and Who you'll meet
5th International Conference on Antibiotic & Antibiotics Resistance is exclusively designed for:
Researchers
Academia
Drug Manufacturers
Government agencies
Healthcare professionals
Hospitals/ Clinics
Methodologists
Young investigators
Medical Directors
Principal Investigators
Clinical Research organizations
Senior executives of Biotech, Biomedical, Medical devices and Pharmaceutical industries
This conference lays a platform for all the researchers working in the field of microbiology/antibiotics to know the latest developments and the current situation of the Antibiotics and Antibiotics Resistance problem.
Track 1: Antibiotics
Antibiotics are a type of antimicrobials that are used in treatment and prevention of bacterial infections. They may kill or inhibit the growth of bacteria. Many antibiotics are also effective against protozoans and fungi; some are toxic to humans and animals also, even when given in therapeutic dosage. Antibiotics are not effective against viruses such as common cold or influenza, and may be harmful when taken inappropriately. Physicians must ensure the patient has a bacterial infection before prescribing antibiotics.
Track 2: Antibiotic Resistance: Opportunities and Challenges
Certain bacterial infections now oppose all antibiotics. The resistance problem may be reversible, but only if society begins to acknowledge how the drugs affect "good" bacteria as well as "bad". Historically, most antibacterials were used in hospitals, where they were integrated into surgical clothes and soaps to limit the spread of infection. More recently, however, those substances (including triclosan, triclocarbon and such quaternary ammonium compounds as benzalkonium chloride) have been mixed into lotions, dish-washing detergents and soaps meant for general consumers. They have also been impregnated into such items as cutting boards, toys, high chairs and mattress pads.
Track 3: Antibiotics in Different Industries
Antibiotics must be used accordingly in humans and animals because both uses share to the emergence, persistence, and escalation of resistant bacteria. Resistant bacteria in food-producing animals are of particular concern. Food animals play as a source of resistant pathogens and resistance mechanisms that can directly or indirectly result in antibiotic resistant infections in humans. Resistant bacteria may be transmitted to humans through the foods we eat. Some bacteria have turned resistant to more than one sort of antibiotic, which makes it more difficult to treat the infections they cause. Sustaining the efficiency of antibiotic drugs is vital to insulating human and animal health.
Track 4: Micro Organisms in Recent Drug Discovery
Environmental microbes are a leading source of drug discovery, and several microbial products ( anti-tumour products, antibiotics, immunosuppressants and others) are used frequently for human therapies. Most of these products were accessed from cultivable (<1%) environmental microbes, means that the large number of microbes were not targeted for drug discovery. With the onset of new and emerging technologies, we are poised to harvest novel drugs from the so-called 'uncultivable' microbes. Multidisciplinary way of linking different technologies can assist and reform drug discovery from uncultivable microbes and inspect the current cramp of technologies and scenario to swamped such constraints that might further expand the promise of drugs from environmental microbes.
Track 5: Clinical Trials of Antibiotics
Prescribing doctors are, progressively, using clinical trial data as a major source of information for evidence-based medicine for the remedy of infectious diseases, as in other clinical disciplines. However, it may be difficult to excerpt from these data the material that is needed for the management of the individual patient. At the same time, clinical trial testimony have been used, probably satisfactorily, in the process of drug registration, and the pharmaceutical industry has spent progressively large amount of money to satisfy the needs of this process. In the face of all these problems, switch in the way antibiotic clinical trials are designed and performed are clearly necessary, although this must not disturb the balance so far as to restore them less useful for those who currently derive greatest benefit from them.
Track 6: The Next Generation Approach of Antibiotics
The discovery of a new antibiotic called teixobactin was announced by international team of researchers, in January this year. It is the most significant new antibiotic to be discovered in more than 30 years, and it may help combat the growing number of drug-resistant bacteria.
Track 7: Alternative to Antibiotics
This new method uses the enzymes of bacteriophages to attack the bacteria. Bacteriophages are tiny viruses that infect bacteria. After they infect the bacteria, they replicate or make copies of themselves, and then leave the bacteria to go and infect other bacteria. To be able to leave the bacteria, the "phages" make an enzyme that dissolves the wall of the bacterial cell, thus killing it.
Track 8: Origins and Types of Antibiotic and Antimicrobials
The world is in the midst of an emerging crisis of antibiotic resistance to microbial pathogens. Numerous pathogens that have become resistant to commonly used antibiotics have been described in various contexts, including drug-resistant methicillin-resistant Staphylococcus aureus (MRSA), Streptococcus pneumonia, and Mycobacterium tuberculosis. Considering the breadth of effect and significant impact on morbidity and mortality, multi-drug-resistant (MDR) pathogens are a substantial threat to public health. Although this problem calls for the development of new antibiotics with new mechanisms of action, the pharmaceutical industry has abandoned the sector as less lucrative for their investments. The number of new antibiotics approved by the U.S. Food and Drug Administration (FDA) declined dramatically during the past 2 decades.
Track 9: Evolution and Mechanisms of Antibiotics and Antimicrobials resistance
Increasing drug resistance is caused primarily by inappropriate use of antimicrobials in humans as well as in animals, and spread of resistant strains between the two. Antibiotics develop selective pressure in bacterial strength, resulting accessible bacteria to die; this enhances the percentage of resistant bacteria which continue increasing. With resistance to antibiotics becoming more common there is greater need for alternative treatments. New antibiotic therapies have been needed, but new drug developmentis becoming scarce.
A World Health Organization (WHO) report released April 2014 stated, "This serious threat is no longer a prediction for the future, it is happening right now in every region of the world and has the potential to affect anyone, of any age, in any country. Antibiotic resistancewhen bacteria change so antibiotics no longer work in people who need them to treat infections is now a major threat to public health. Increasing public calls for global collective action to address the threat include proposals for international treaties on antimicrobial resistance.
Track 10: Genetics and Proteomics of antimicrobial resistance
Bacteria can acquire antibiotic resistance genes from other bacteria in several ways. By undergoing a simple mating process called "conjugation," bacteria can transfer genetic material, including genes encoding resistance to antibiotics (found on plasmids and transposons) from one bacterium to another. Antibiotic resistance genes have been identified in diverse environments including soil, gull feces and, increasingly, in the human gut microbiota. Scientists have applied a range of approaches to detect antibiotic resistance genes in environmental or non-clinical microbiomes, all of which have their own inherent strengths/limitations.
Proteomic studies have improved our understanding of the microbial world. The most recent advances in this field have helped us to explore aspects beyond genomics. Proteomics has also advanced our knowledge of mechanisms of bacterial virulence and some important aspects of how bacteria interact with human cells and, thus, of the pathogenesis of infectious diseases. We have used proteomic technology to elucidate the complex cellular responses of Bacillus subtilis to antimicrobial compounds belonging to classical and emerging antibiotic classes.
Track 11: Antimicrobial resistance and its emergence
The use of antimicrobials in animals closely parallels their discovery and usage in humans. Sulfonamide was the first antimicrobial to be introduced to food animal medicine in the 1940s. Antimicrobial resistance emerges from the use of antimicrobials in animals and the subsequent transfer of resistance genes and bacteria among animals and animal products and the environment. Antibiotics are also given to food animals for growth promotion and prophylactic medication. In 2011, a total of 13.6 million kilograms of antimicrobials were sold for use in food-producing animals in the United States, which represents 80% of all antibiotics sold or distributed in the United States. Of the antibiotics given to animals from 2009 through 2013, just above 60% distributed for food animal use are "medically-important" drugs, that are also used in humans. The rest are drug classes like ionophores which are not used in human medicine. here are also global concerns over the use of antibiotics for growth promotion or therapy purposes because of the potential for some drugs to enter the human food chain despite rigorous withdrawal measures and testing to prevent antibiotic residues in food, increasing antibiotic resistance in animals, a potential although largely unproven link to antibiotic-resistant infections in humans, and what some consider antibiotic misuse. When government regulation restricts use of antibiotics the negative economic impact is not often considered.
Track 12: Alternative Strategies for antimicrobial resistance worldwide
There is a renewed interest in the antibiotic sector, which is evident from the most recent patents and investments. Bacterial vaccines and new antibiotic classes are gaining a tremendous amount of attention with several product candidates in clinical development. These new products are expected to change the outlook of the antibiotic sector to a large extent over the next 5 years. Several reports focus on anti-infective markets in general. This report, however, focuses exclusively on antibacterials, with a particular emphasis on the emerging problem of antibiotic resistance. It also includes a detailed analysis of the emerging technology trends, which give a clear picture of the future of the sector. This helps to provide regulatory authorities and industry strategists a better perspective on which to base their decisions. BCC Research published a report on this topic in 2002. Since then, the market has witnessed dramatic changes in terms of technology, investment, and regulatory trends, which are captured in this report.
Track 13: Antimicrobial Resistance: Public Health Concerns
This topic reviews the global antibiotic markets, including discussions on the market development and growth potential over the next 5 years. It also analyses key factors that are driving the market growth. It describes the trends in detail with respect to various antibiotic classes, including the novel classes that are emerging and their technological basis. It includes in-depth discussions of the industry structure and the regulatory environment. It is valuable reading for investors, policymakers, and industry participants. Profiles of leading players in the industry are also included.
Such involved analyses have been conducted to help strategy developers and decision makers within pharmaceutical companies and government bodies. The detailed analyses of the regulatory factors that play major roles in deciding the industry trends are especially useful for legislators involved in government policy development programs. Technology trend and patent analyses give an overview of the new trends with respect to innovation within the sector.
Track 14: Antibiotic surveillance and safety concerns
In the time since penicillin was discovered nearly 80 years ago, antibiotics have become one of the most important lifesaving weapons in doctors' arsenal against bacterial infection. Now, the Lakeland, Fla.-based Publix grocery store chain is giving away seven of these drugs free of charge to those who have prescriptions for them. Five of these are amoxicillin, ampicillin, cephalexin, erythromycin and penicillin VK -- are commonly used by doctors to treat bacterial infections ranging from ear infections to gonorrhea. But two of the drugs on the list -- ciprofloxacin and sulfamethoxazole/trimethoprim -- are high-grade antibiotics that doctors usually reserve for particularly serious infections.
While some hail the program as a godsend, others fear that the move could lead to overuse of the drugs.
This is because the use of antibiotics comes attached with important considerations. According to the American Academy of Family Physicians, there are certain situations in which antibiotics are helpful -- and many in which they can cause more harm than good.
Penicillins, Cephalosporins, Aminoglycosides, Glycopeptides, Tetracyclines are antibiotics most commonly showing side effects.
Track 15: Analytical strategies for Antimicrobials & Antibiotics
The analysis of antibiotic susceptibility disks by high-pressure liquid chromatography (HPLC) methods are presented for the potency determination of mecillinam, ampicillin, carbenicillin, and cephalotjiin alone and in various combinations. Good agreement between HPLC and microbiological data is observed for potency determinations with recoveries of greater than 95%. Relative standard deviations of lower than 2% are recorded for each HPLC method. HPLC methods offer improved accuracy and greater precision when compared to the standard microbiological methods of analysis for susceptibility disks. The most popular analytical methods for the determination of beta-lactams are the chromatographic ones, including high performance liquid-chromatography (HPLC) and thin layer chromatography (TLC).
HPLC offers high sensitivity and separation efficiency, establishing itself as the first choice method for the analysis of beta-lactams; however it is expensive and requires sophisticated equipment. TLC is a less expensive and less complicated chromatographic procedure, which can be successfully used, in the preliminary screening of pharmaceutical substances. In modern analysis, TLC is usually used as a separation method, which establishes the presence or absence of beta-lactam antibiotics above a defined level of concentration.
Track 16: Role of long term antibiotics & antimicrobial in diseases
Antibiotics have been applied for the treatment of autoimmune diseases for over five decades, based on the premise that infections play a role in the initiation and propagation of these entities. The antibiotics market was valued at USD 39.8 million in 2015 and is expected to witness a CAGR of 4.0% over the forecast period. Increasing efforts are being witnessed toward the development of advanced products. According to the data published by the Pew Charitable Trust, in March 2016, about 37 promising molecules were being investigated within the U.S. market. Majority of these, are in phase II clinical trials and are anticipated to hit the market between 2018 - 2020. Furthermore, supportive government legislations, such as the Generating Antibiotics Incentives Now (GAIN) Act are expected to expedite the approval process. GAIN Act has provisions which facilitate development of therapy against antibiotic resistant pathogens.
The worldwide fundamental antibiotics Showcase was esteemed at $39.6 billion of every 2013 and is relied upon to reach $41.2 billion by 2018, at a CAGR of 0.8%. The worldwide market for antifungal therapeutics was esteemed at $10.7 billion in 2013 and is anticipated to reach $12.2 billion in 2018, a five-year compound yearly development rate (CAGR) of 2.7%. This calls for uniting at a forum to discuss the present scenario, uptake and consequences associated with antibiotics and related areas of research.
Antibiotic usage varies Globally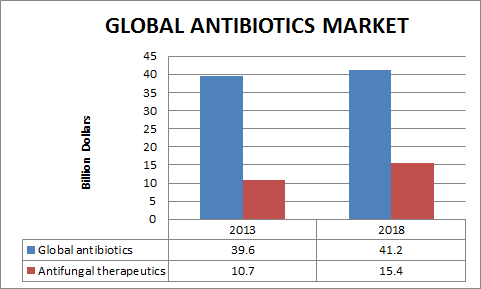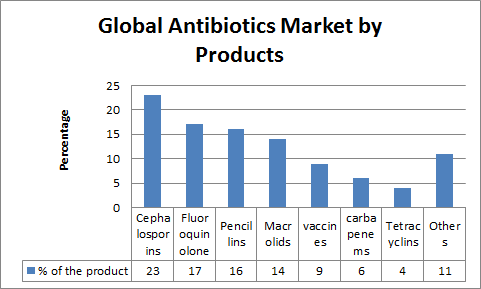 Antibiotics changed the world. General deals in the present antibiotics and new products advertise were about $40 billion in 2010. It expanded to $41.5 billion in 2013. By 2019, it is anticipated to increase to $67.5 billion, for a 5-year compound annual growth rate (CAGR) of over 9.6%. The biggest section antibiotic drugs showcase was about $38 billion in 2014; this further expanded to $37 billion in 2016, this anticipated to reach $53 billion in 2017, for a 5-year CAGR of 5.9%. Deals in the bacterial vaccines advertise added up to $3.6 billion in 2010 which expanded slightly to $4.5 billion in 2012. This is anticipated to increase to $15 billion of in 2018, for a 5-year CAGR of 31.6%.
The antibiotics market generated sales of US$42 billion in 2009 all inclusive, representing 46% of sales of anti-infective agents (which additionally incorporate antiviral medications and vaccines) and 5% of the worldwide Pharmaceutical Market. However, the antibiotics market is maturing; it demonstrated a normal yearly development of 4% in the course of recent years, contrasted and a development of 16.7% and of 16.4% for antiviral medications and vaccines, individually.
Commonly used antibiotics with their increased percentage of resistance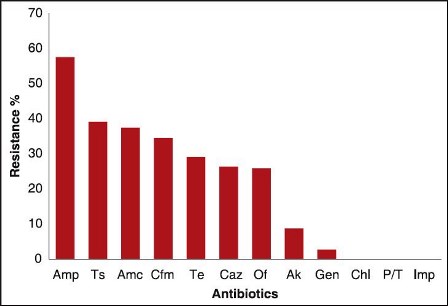 The worldwide foundational antibiotics market was esteemed at $39.6 billion in 2013 and is relied upon to reach $41.2 billion by 2018, at a CAGR of 0.8%. Since, 2005 this market apparently grows at a yearly rate of 6.6% until 2011. There are many organizations manufacturing antibiotics nowadays and there are numerous different antibiotics present in the market, for example, aminoglycoside antibiotics and it covers around 79% of the worldwide demand. In addition, alternate antibiotics, for example, pencillin have 8%, tetracyclines 4%, erythromycin 7%, streptomycin 1% and chloramnphenicol has 1 % market.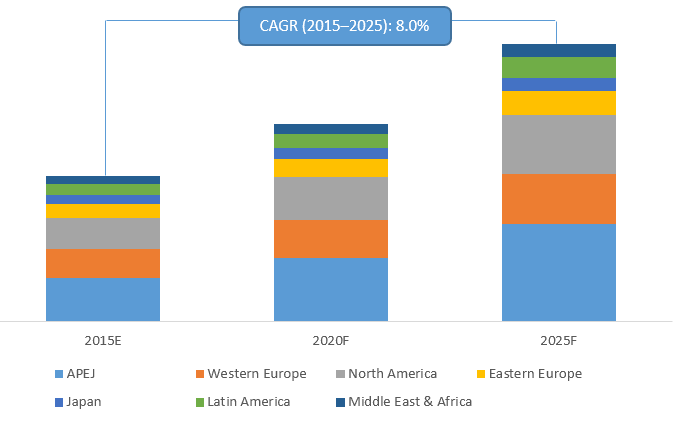 Organizations working on Antibiotics around the Globe:
Infectious Diseases Society of America

World Health Organization

U.S. Food and Drug Administration (FDA)

Center for a Livable Future (CLF)

Centers for Disease Control and Prevention (CDC)

American Medical Association

Animal Welfare Approved (AWA)

Center for Food Safety

Center for Science in the Public Interest (CSPI)

Food Animal Concern Trust (FACT)

The Humane Society of the United States (HSUS)

The Pew Charitable Trusts

Food and Water Watch

Healthy Food Action

Keep Antibiotics Working (KAW)

Natural Resources Defense Council (NRDC)

American Nurses Association

American Public Health Association

Institute of Medicine, National Academies of Science

American Society for Microbiology
We gratefully thank all our wonderful Keynote Speakers, Speakers, Delegates, Students, Organizing Committee Members, Media Partners for making our Past Antibiotics Reistance Conferences (during 2018 in USA Region) the best ever!
4th International Conference on Antimicrobials, Multiple Drug Resistance & Antibiotics Resistance, April 20-21, 2018
Venue: Hilton Garden Inn Las Vegas Strip South 7830 S Las Vegas Blvd, Las Vegas, NV 89123, USA
For conference attendance and participation only Business Visa should be applied. Contact your nearest travel agent/visa information centre/US Embassy for the correct application form.
All visas for visiting US shall be processed by respective authorities only upon submission of proper documents through proper channel.
In case of non-furnishing of documents, non-adherence to guidelines visas shall be cancelled by respective authorities.
The minimum supportive documents that might be required while applying for US VISA include:
Letter of Invitation
Abstract acceptance letter (if speaker)
Registration payment receipt
Accommodation confirmation letter issued under conference letter head
For letter of invitation and accommodation confirmation, payment of registration fees and accommodation charges is a pre-requisite.
Mandate documents required from conference secretariat should be obtained only through Jessica Thomas
For more details please contact
Jessica Thomas
Program Manager
Antibiotics Resistance 2019
E: antibiotics@annualamericacongress.org
It's the delegate's responsibility to investigate the visa requirements for USA and to apply for a visa, if necessary. Individuals requiring an official Letter of Invitation from the conference organizers can request one by email by writing to us at antibiotics@annualamericacongress.org
To receive a Letter of Invitation, delegates, accompanying persons/children, student/post-doc/youth delegates and exhibitors must first register for the conference.
The registration fee minus a handling fee of USD 100 will be refunded after the conference if the visa was applied for in time and proof is shown that a visa could not be granted even though all requested documents were submitted.
All expenses incurred in relation to the conference are the sole responsibility of the delegate. The Letter of Invitation does not guarantee an entry visa to USA. However, the conference organizers will not directly contact embassies and consulates on behalf of delegates.
The deadline for requesting a Letter of Invitation is one month before travelling to USA.
Past Conferences Keynote Speakers
We thank all our Honorable Keynote Speakers for their valuable presence, namely
Past Conferences Chairs/Co-Chairs
We extend our appreciation towards our Chairs and Co-Chairs of the sessions, namely
Hideko Kaji, Thomas Jefferson University, USA
Akira Kaji, University of Pennsylvania, USA
Tore Midtvedt, Karolinska Institute, Sweden a

nd more…
Past Conferences Moderators
Conference series LLC Ltd expresses its gratitude to the conferences Moderators, for taking up the responsibility to coordinate during the sessions, we are indebted to your support, namely
Nataliya Roth, University of Natural Resources and Life Sciences, Austria
Helieh S Oz, UK Medical Center, USA

and more…
To share your views and research, please click here to register for the Conference.
To Collaborate Scientific Professionals around the World
Special Issues
All accepted abstracts will be published in respective Our International Journals.
Abstracts will be provided with Digital Object Identifier by
---
Conference Series Destinations